COLLEGE OF HEALTH SCIENCES (CHS)
The 3 Health programs – BSN, BSPh and BSMT have their mission of developing health professionals who are competent and morally upright. The programs are intended to leave a distinctive mark in promoting health, preventing illness and rehabilitating the infirmed in our society.
The Commission on Higher Education Region V, confirmed the University of Santo Tomas-Legazpi the Certificate of Authority to reopen the campus for the conduct of limited face-to-face classes for the bachelor's programs in Nursing, Pharmacy and Medical Technology, will prioritize the allocation of hours for hands-on practice of skills-based course that cannot be fulfilled through online learning.
As an institution of higher learning, we ensure that our programs are designed to keep up with the demands and trends of the times. We deliver holistic student experience towards achieving academic excellence, moral formation, and emotional maturity.
We, the College of Health Science, in a life of truth and love out of gratitude, envision ourselves to be the premiere school of health sciences in the region whose graduates are emotionally mature, morally upright, and academically excellent in the fields of nursing, pharmacy, and medical technology in a deregulated university by 2025.
Thus, we work to be:
1. A provider of globally competitive graduates who are scientifically and morally competent in delivering health care services in the community, industries and laboratories, consistent with the national and international standards;
2. A leader in preparing Registered Nurses, Pharmacists, Medical Technologists equipped with knowledge, skills, attitude, and integrity to become health professionals;
3. A model in the promotion and integration of Dominican value and ethics into health professional practice
As one in a Dominican institution, we, the College of Health Sciences commit ourselves to the development of qualified, competent, and morally upright Legazpi Thomasian healthcare professionals through dedicated study, research, linkages, and extension programs.
BACHELOR OF SCIENCE IN NURSING (BSN)
PACUCOA Level II Re-accredited Program
Program duration: 4 years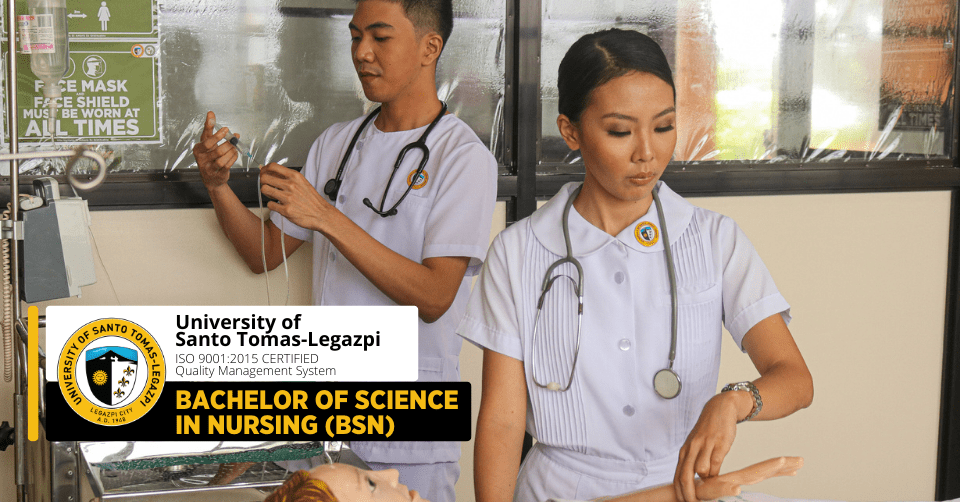 The Bachelor of Science in Nursing program focuses on providing safe, quality, and holistic care for the protection and promotion of health and wellness and the prevention of illness and injury so that people and communities may attain, maintain, or recover optimal health and quality of life.
Job Opportunities
Hospital Nurse, Public Health Nurse, Private-Duty Nurse, Occupational Health Nurse, School Nurse, Military Nurse (Army, Navy, Flight Nurse), Clinical Researcher 
BACHELOR OF SCIENCE IN PHARMACY (BSPh)
The first and only in Bicol
Program duration: 4 years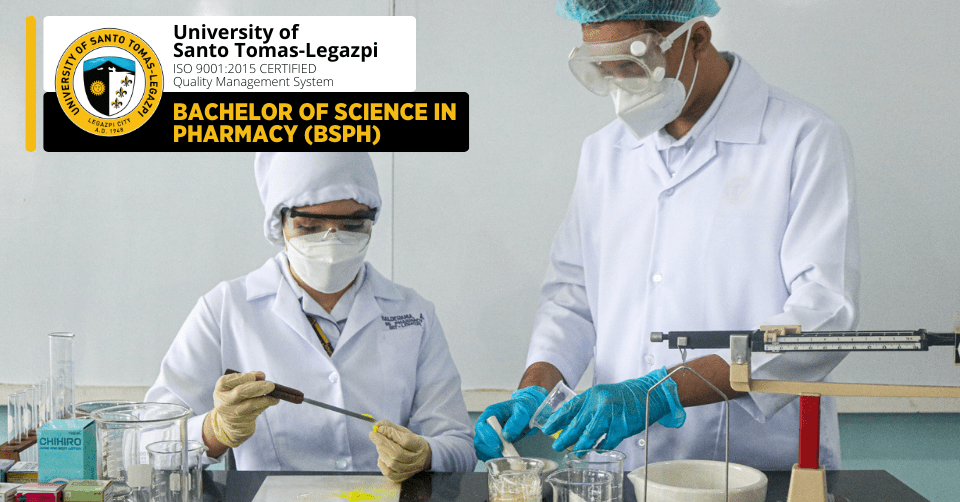 The Bachelor of Science in Pharmacy program is concerned with the study of drugs and related substances, focusing on its formulation, mechanism of action, and routes of administration with the understanding of pharmaceutical product development and their applications in pharmacy practice.
Job Opportunities
Hospital Pharmacist, Clinical Pharmacist, Community Pharmacist, Regulatory Pharmacist, Clinical Researcher, Academe, Regulatory Pharmacist, Industrial Pharmacist, Public Health Pharmacist, Forensic Pharmacist, Military Pharmacist, Pharmaceutical Analyst
BACHELOR OF SCIENCE IN MEDICAL TECHNOLOGY (BSMT)
Program duration: 4 years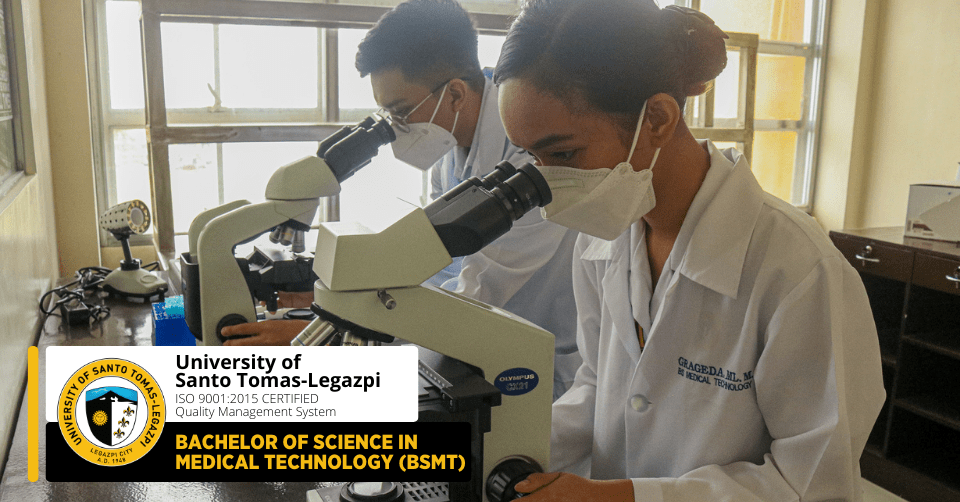 The Bachelor of Science in Medical Technology program deals with the collection, preservation, examination, and analysis of body fluids and tissues with the use of various chemical, microscopic, and bacteriological methods. It applies natural, physical, and biological sciences in the performance of laboratory procedures, which aid in the detection, diagnosis, prevention, and treatment of diseases to maintain and protect public health.
Job Opportunities
Clinical Laboratory Technologist, Phlebotomist/Phlebotomy Technologist, Drug Analyst, Science Research Specialist, Cytotechnologist, Histotechnologist, Microbiologist/Batecteriologist, Medical Laboratory Science, Researcher, Bacteriologist
WHY CHOOSE UST-LEGAZPI?
The only Premier Dominican University in Bicol
Holistic Thomasian Education
Commitment to Academic Excellence, Moral Formation, and Emotional Maturity
Enriched industry experience
State-of-the-art facilities
Highly-esteemed faculty members
With PAASCU and PACUCOA Accredited and Re-accredited Programs
ISO 9001:2015 Certified Quality Management System
FOR INQUIRIES:
TRUNKLINES: (052)
736 – 0335
736 – 0358
736 – 0368
LOCAL NUMBERS:
262 – Dean's Office
278 – Admissions
201 – Registrar
214 – Testing
Email: healthsciences@ust-legazpi.edu.ph
Website: ust-legazpi.edu.ph
Facebok, Instagram, Twitter: @ustlegazpi
Vita Veritatis et Amoris ex Gratitudine
A Life of Truth and Love out of Gratitude