COLLEGE OF BUSINESS MANAGEMENT AND ACCOUNTANCY (CBMA)
Molded by the 4 pillars in Business:
Faith, Environment, People, and Profit.
The College of Business, Management, and Accountancy aims and commits itself to offer business education –transforming students into professional business leaders, managers, and entrepreneurs imbued with a strong sense of social responsibility and receptive to the demands of the dynamic world of business. It provide students with relevant and innovative instruction complemented with contemporary top-of-the-line tools in accountancy, marketing management, finance, entrepreneurship, human resource, tourism, and hospitality management.
We envision the College of Business Management and Accountancy as a pacesetter in the Bicol Region in the field of Accountancy, Entrepreneurship, Financial, Marketing, Human Resource, Tourism, and Hospitality Management through excellent business education, research innovation, and community extension in a deregulated university by 2025.
We offer a Christ-centered quality education where students are transformed into professional executives, business leaders, managers and entrepreneurs receptive and adaptable to the changes and challenges of the dynamic business world.
BACHELOR OF SCIENCE IN ACCOUNTANCY (BSA)
Program duration: 4 years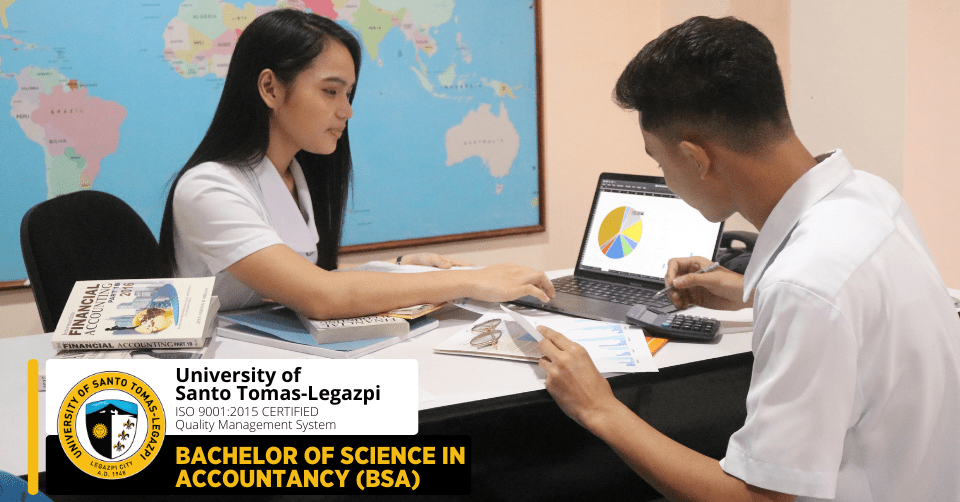 The Bachelor of Science in Accountancy aims to produce competent, globally competitive, ethical accounting professionals, and to imbibe in the learners the knowledge, skills, and attitudes that will enable them to adapt to change in their professional journey. Students learn business concepts, processes, and procedures, accounting functions, and reporting standards, auditing standards and procedures, information and communications technology, legal and regulatory framework, and Christian and ethical doctrines.
Job Opportunities
Accountant; Investment/Financial Analyst Advisor, Credit Analyst, Revenue Officer, Treasury Agent, Controller, Audit Services Manager, Finance Director, Accounting Instructor/Faculty
BACHELOR OF SCIENCE IN TOURISM MANAGEMENT (BSTM)
Program duration: 4 years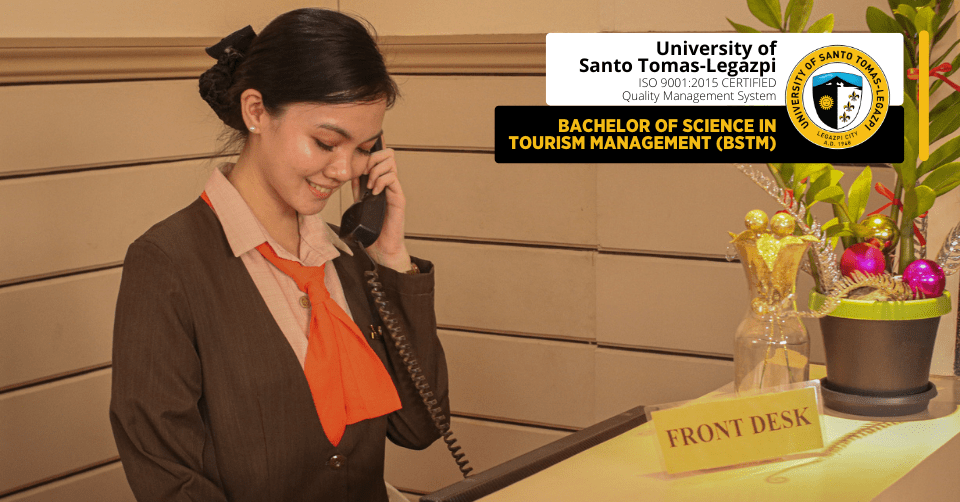 The program prepares the students to be competent and competitive in the array of job positions as future tourism professionals, leading to expertise in tourism planning and research, destination management, airline operations, cruise service management, tour and travel operations, event management and hotel operations.
Job Opportunities
Flight Attendant, Reservation Agent/Manager, Research Analyst/Tourism Researcher, Ground Handling Personnel, Customer Service Representative, Domestic/International Travel Counsellor, Tour Planner/Guide, Museum/Park Guide, Public Information/Relations Officer, Travel Writer/Editor/Blogger, Tour Group/Package Tour Coordinator, Airline Purser/Manager, Travel Literature Manager, Product Development Manager, Recreation Specialist, Tourism Center Director
BACHELOR OF SCIENCE IN HOSPITALITY MANAGEMENT (BSHM)
Program duration: 4 years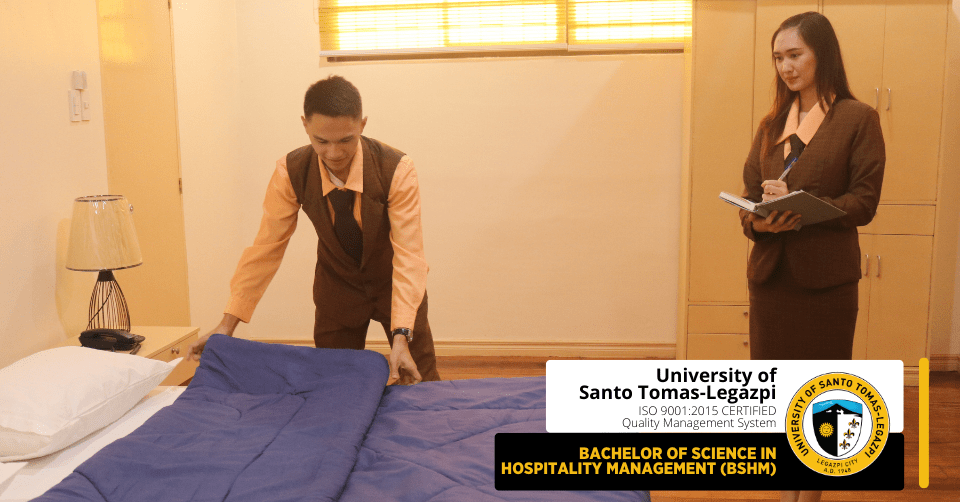 The program trains students to be equipped with the knowledge, skills, competencies, and work values for career opportunities in entrepreneurship, cruise and airline services, culinary arts, and accommodation businesses where hospitality is essential.
Job Opportunities
Chef/Baker/Cook, Bartender/Mixologist, Oenologist, Bar/Restaurant Supervisor, Waiter/Food Attendant, Barista, Room, Service Manager, Housekeeping Manager/Executive Housekeeper, Receptionist/Front Office Attendant, Public Relations Personnel, Recreation/Leisure/Events Manager
BACHELOR OF SCIENCE IN ENTREPRENEURSHIP (BS ENTREP)
Program duration: 4 years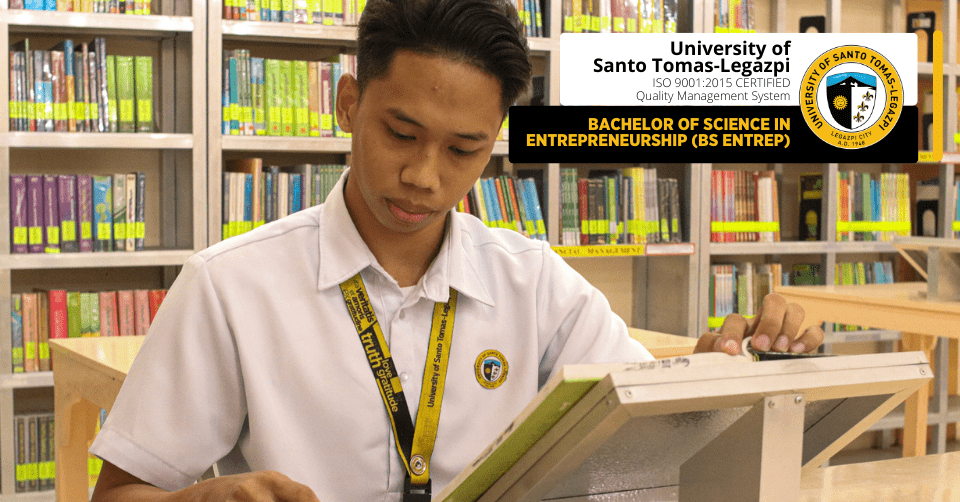 The BS Entrepreneurship Program through the combination of classroom training and experiential learning will help aspiring entrepreneurs acquire the skills, values and attitudes that support their professional business venture.
Job Opportunities
Entrepreneur, Intrapreneur, Technopreneur, Business Educator, Business Consultant, Chief Executive Officer, Business Analyst, Research & Development Director, General Manager, Production Director
BACHELOR OF SCIENCE IN BUSINESS ADMINISTRATION
Major in Human Resource Management (BSBA-HRM)
PAASCU Level II Re-accredited Program
Program duration: 4 years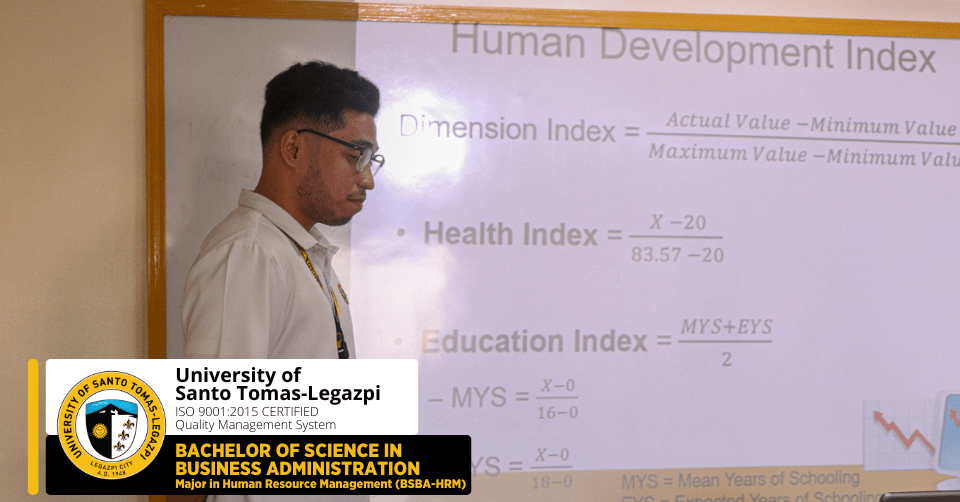 The Human Resource Management Program prepares the graduate for a career in the Human Resource Department of any Organization, handling the many diverse human capital requirements of the organization, including recruitment, staffing, training and career development.
Job Opportunities
HR Generalist, HR Specialist, Training and development Director, Human Resource Officer, Executive Assistant , HR Consultant, Executive Recruiter, Labor Relations Manager, Employment Manager, Compensation/Benefits Manager, HR Analytics Specialist
BACHELOR OF SCIENCE IN BUSINESS ADMINISTRATION
Major in Financial Management (BSBA-FM)
PAASCU Level II Re-accredited Program
Program duration: 4 years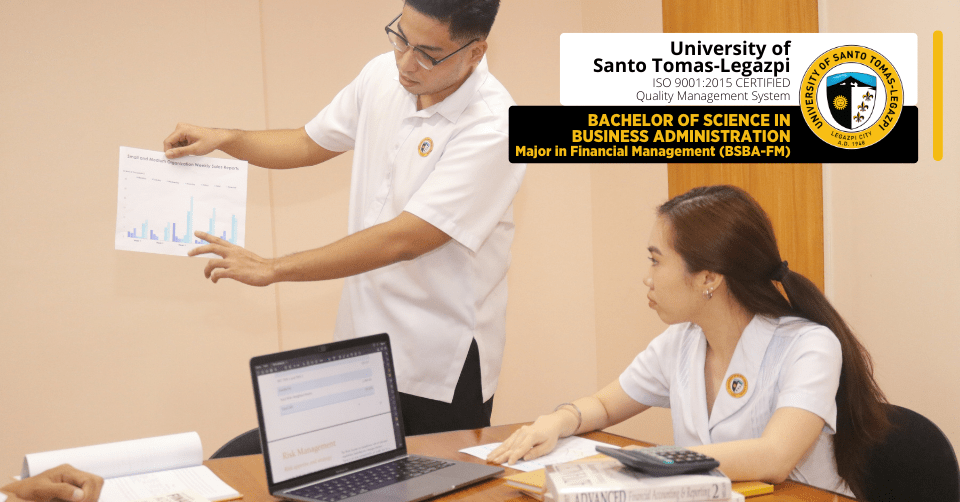 The Financial Management program prepares the graduates for various careers in financial management as well as in related fields, including but not limited to, corporate finance, investment management, banking, credit, trust operations, insurance, foreign currency markets, money markets, capital markets and other financial securities markets.
Job Opportunities
Finance Manager, Accounts Manager, Credit Analyst, Entrepreneur, Financial Controller, Financial Planner, Budget, Analyst, Trader/Financial Analyst, Investor Relations Associate, Treasurers and Finance Officers
BACHELOR OF SCIENCE IN BUSINESS ADMINISTRATION
Major in Marketing Management (BSBA-MM)
PAASCU Level II Re-accredited Program
Program duration: 4 years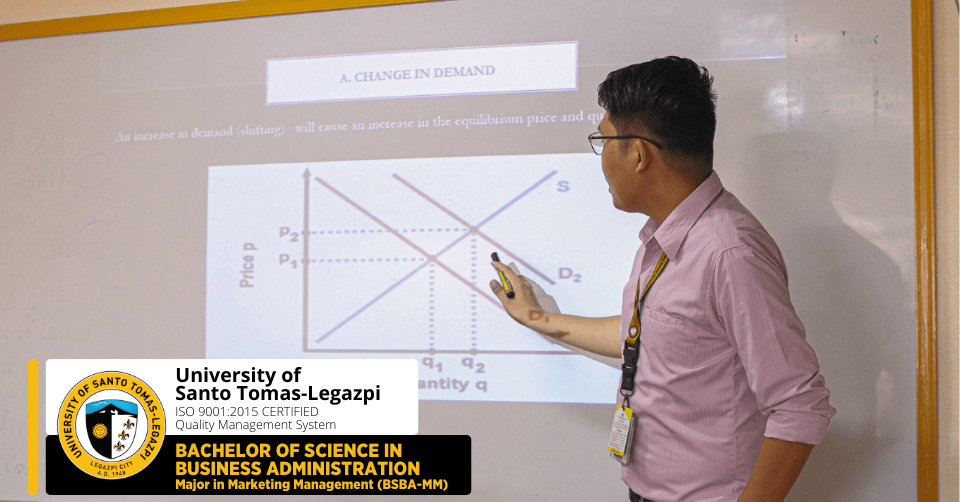 The Marketing Management Program prepares the graduate for careers in marketing, market research, advertising and public relations. The curriculum provides the graduate with both technical skills and competencies required in the field, but also the flexible mindset that is necessary to stay competitive in a constantly changing business environment.
Job Opportunities
Social Media Manager, Marketing Manager, Entrepreneur, Product/Brand Manager, Advertising/Promotion Manager, Order/Billing Officer, Account Executive, Market Research Analyst, Media Planner, Production Manager, Promotions Coordinator
WHY CHOOSE UST-LEGAZPI?
The only Premier Dominican University in Bicol
Holistic Thomasian Education
Commitment to Academic Excellence, Moral Formation, and Emotional Maturity
Enriched industry experience
State-of-the-art facilities
Highly-esteemed faculty members
With PAASCU and PACUCOA Accredited and Re-accredited Programs
ISO 9001:2015 Certified Quality Management System
FOR INQUIRIES:
TRUNKLINES: (052)
201 – 1514
736 – 0335
736 – 0358
736 – 0368
LOCAL NUMBERS:
332 – Dean's Office
278 – Admissions
201 – Registrar
214 – Testing
Email: cbma@ust-legazpi.edu.ph
Website: ust-legazpi.edu.ph
Facebok, Instagram, Twitter: @ustlegazpi
Vita Veritatis et Amoris ex Gratitudine
A Life of Truth and Love out of Gratitude