COLLEGE OF ENGINEERING, ARCHITECTURE, AND FINE ARTS (CEAFA)
In its vision to be a leading, proficient, dynamic, and sustaining center in its respective fields, the College of Engineering, Architecture, and Fine Arts (CEAFA) continues to innovate and improve its academic programs and services. Research and instruction are complemented with up-to-date facilities and adept faculty members; commendable academic performance is therefore manifested as UST-Legazpi earns ranks in licensure examinations – Ar. Mikael Jay B. Bonto placed 1st in the 2008 Architect Licensure Examinations, followed by Ar. Crispin B. Cruza who bagged the 10th place in 2017.
By 2025, in a deregulated UST-Legazpi, we envision the College of Engineering, Architecture and Fine Arts to be a sustainable, proficient, and dynamic fulcrum of ENGINEERING, ARCHITECTURE, FINE ARTS, LIBRARY & INFORMATION SCIENCE, and COMPUTER SCIENCE education marked by a Thomasian Culture that is Catholic and Dominican.
We, the College of Engineering, Architecture and Fine Arts of the University of Santo Tomas-Legazpi, inspired by St. Thomas, commit ourselves to the pursuit of academic excellence through distinct integration of knowledge and technical skills, immersed in Christian Values through fervent prayer and witnessing, essential for the development towards a progressive Christian community and promotion of cultural advocacy, to produce competitive engineers, architects, computer scientists, artists, and library & information scientists.
BACHELOR OF SCIENCE IN CIVIL ENGINEERING (BSCE)
Program duration: 4 years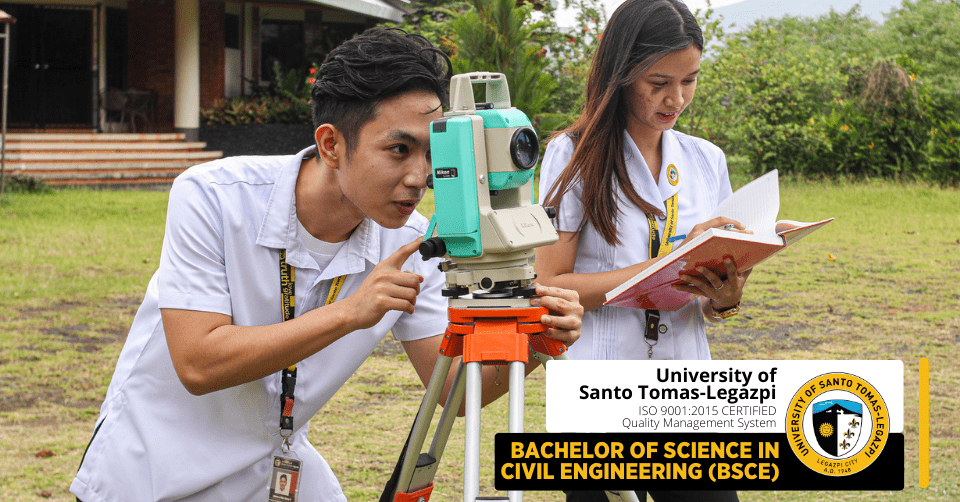 The Bachelor of Science in Civil Engineering program provides students with knowledge and skills in the design, construction, and maintenance of roads, buildings, water supply and irrigation systems and bridges. It aims to train students for careers in research, practice, and teaching of civil engineering.
Job Opportunities
Highway and Transportation Engineer, Sanitary/ Environmental Engineer, Construction Manager/Engineer, Project Manager/Engineer, Structural/Design Engineer, Geotechnical Engineer, Engineer Faculty, Water & Wastewater Engineer, Hydrologist and more
Bachelor of Science in Industrial Engineering (BSIE)
Program duration: 4 years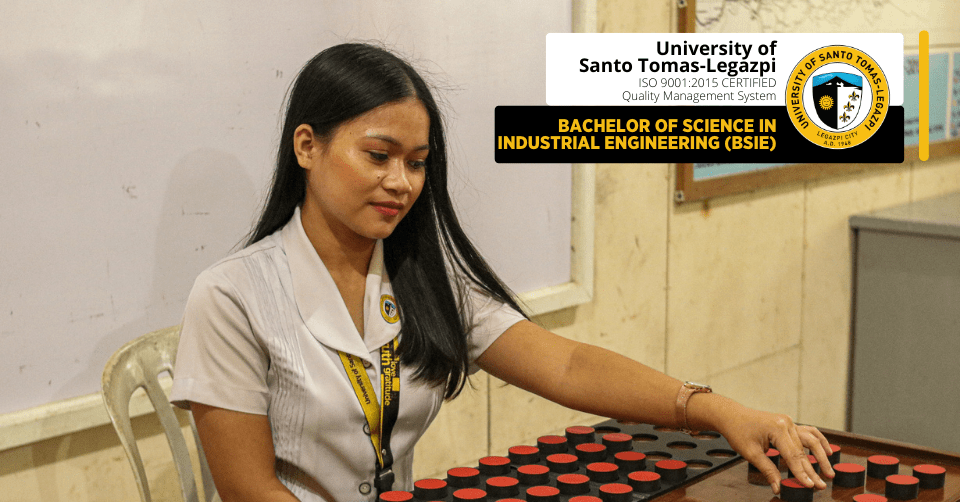 The Bachelor of Science in Industrial Engineering is a program designed to prepare students to be competent and ethical professionals in making designs, improvement and installation, and in the maintenance of material, systems, and equipment. It helps graduates to gain depth in their areas of concentration in quality engineering and production management.
Job Opportunities
Quality Assurance and Production Staff, Productivity Consultant and Specialist, Operations and Production Manager, Strategic and Operational Planner, Project and Information Analyst, Operations Research Analyst and more
BACHELOR OF SCIENCE IN COMPUTER ENGINEERING (BSCpE)
Program duration: 4 years
The Bachelor of Science in Computer Science program prepares students for the application, design, and implementation of computer systems. Graduates are ready for a wide variety of technical positions such as systems programmer, systems analyst, software engineer, database administrator, webmaster, and networking engineer, or admission to graduate school.
Job Opportunities
Network System Administrators and Support, Systems and Technical Manager and Engineer, Hardware and Network Engineer, Network Administrator and Manager, Data Communications Engineer , Systems Analyst, Programmer and more
BACHELOR OF SCIENCE IN ELECTRONICS ENGINEERING (BSECE)
Program duration: 4 years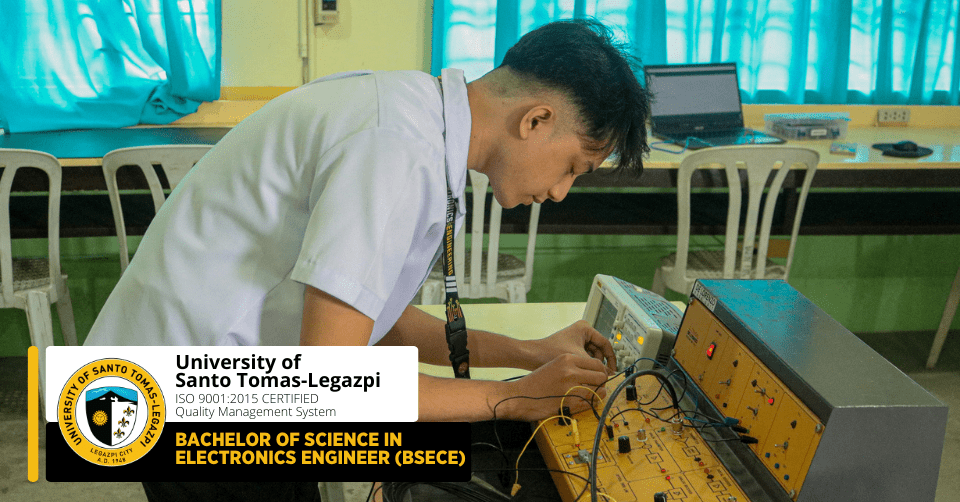 The Bachelor of Science in Electronics Engineering program focuses on the design, construction, integration, operation, and maintenance of electronic equipment, devices and circuits used in the transmission and processing of information.
Job Opportunities
Product or Test Engineer in Semiconductor Industry, Product and Quality and Reliability Engineer, Computer Networking Professional, Senior Networking Professional, Senior Field Applications Engineer, Engineer in the Maritime Services, Telecommunications Specialist, Marine Electronics Technician, Electronic Designer Engineer  
BACHELOR OF SCIENCE IN ARCHITECTURE
Program duration: 4 years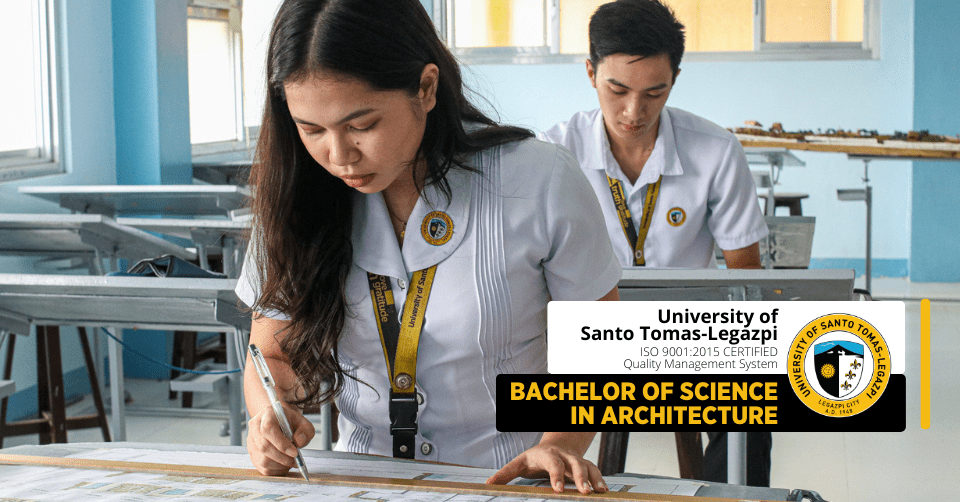 The Bachelor of Science in Architecture program equips students with in-depth knowledge and skills needed to prepare them for career in the field of architecture, interior design, physical planning, landscaping, and building construction.
Job Opportunities
Architect, Interior Architect, Building System Designer, Design Architect, Building Administrator, Construction Manager, Project Manager, Consultant, Architecture Researcher, Educator, Town Planner, Construction Arbitrator
BACHELOR OF FINE ARTS
Program duration: 4 years
The only Fine Arts program in Bicol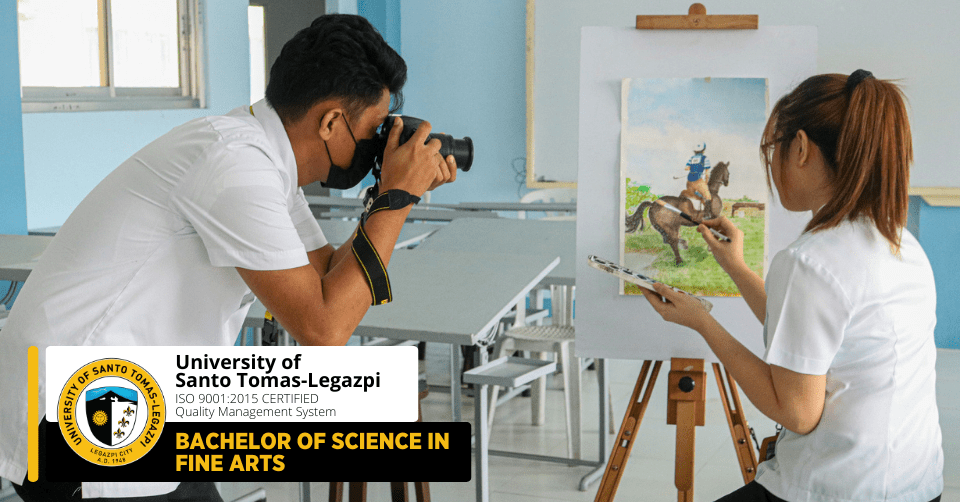 The Bachelor of Fine Arts with specialization in Visual Communication provides knowledge and skills in the theories and concepts of electronic media, photography, studio arts, visual arts, interior design and painting. The BFA program aims to produce graduates who are competent and able to pursue creative professional careers.
Job Opportunities
Professional Photographer, Visual Merchandiser, Marketing Assistant, Costume Designer, Graphic Designer, Interior Designer, Fashion Designer, Videographer, Videographer/Video Editor, Art Instructor, 3D Animator and more
BACHELOR OF SCIENCE IN COMPUTER SCIENCE 
Program duration: 4 years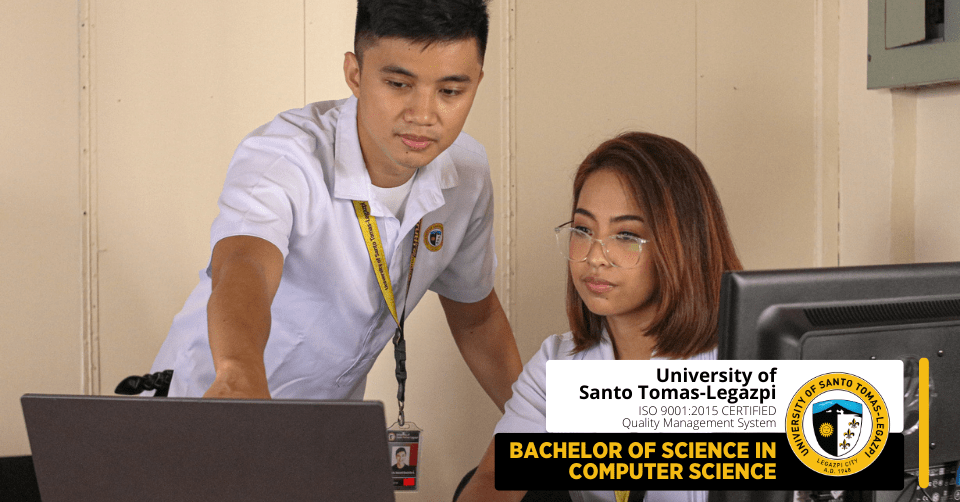 The Bachelor of Science in Computer Science studies concepts and theories, algorithmic foundations, implementation and application of information and computing solutions. This program helps students to develop skills in designing, developing and managing computer-based system solutions and it has wide range.
Job Opportunities
Computer Scientist , Software/Application Developer, Systems Administrator, Information Security Specialist, Systems Analyst, Web developer /Webmaster , Computer Science, Animation Expert , Programmer, Computer Science Instructor, Database Management Specialist and more
BACHELOR OF LIBRARY AND INFORMATION SCIENCE 
Program duration: 4 years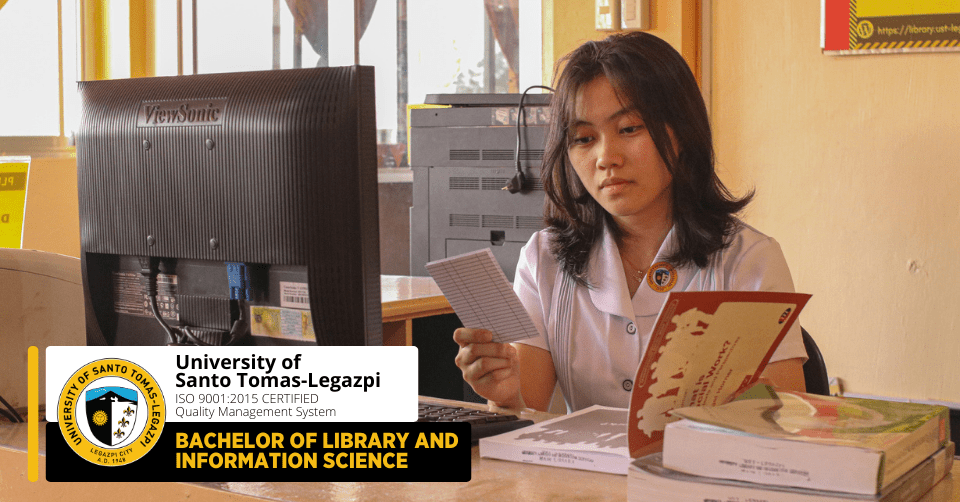 The Bachelor of Library and Information Science equips students with the required knowledge and skills for effective management of library operations, including the systematic handling of books, documents, and other intellectual properties. Development of competencies focuses on the integration of the fundamentals of library science with the trends in information technology for efficient organization and delivery of libra service.
Job Opportunities
Librarian, Teacher, Researcher, Archivist, Bibliographer/Cataloguer, Indexer, Documentarist, Media or Audio-Visual Specialist, Information Specialist, Curator, and more
WHY CHOOSE UST-LEGAZPI?
The only Premier Dominican University in Bicol
Holistic Thomasian Education
Commitment to Academic Excellence, Moral Formation, and Emotional Maturity
Enriched industry experience
State-of-the-art facilities
Highly-esteemed faculty members
With PAASCU and PACUCOA Accredited and Re-accredited Programs
ISO 9001:2015 Certified Quality Management System
FOR INQUIRIES:
TRUNKLINES: (052)
736 – 0335
736 – 0358
736 – 0368
LOCAL NUMBERS:
242 – Dean's Office
278 – Admissions
201 – Registrar
214 – Testing
Email: ceafa@ust-legazpi.edu.ph
Website: ust-legazpi.edu.ph
Facebok, Instagram, Twitter: @ustlegazpi
Vita Veritatis et Amoris ex Gratitudine
A Life of Truth and Love out of Gratitude