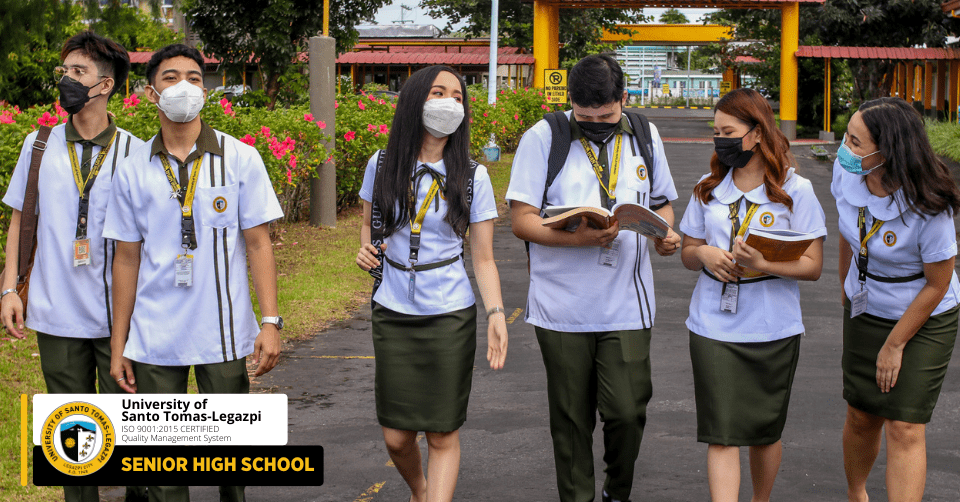 Over the years, the University of Santo Tomas-Legazpi has proven itself as one of the leading Higher Education Institutions in the region. The University has prepared its physical and human resources for the full implementation of the K-12 curriculum; its Senior High School (SHS) program is managed by competent, committed, and experienced educators who ensure that students achieve quality education and holistic formation.
Faculty members utilize online learning management systems with integration of coding education system (Robotics) to supplement classroom instruction and elevate the students' learning experience. The department also puts premium on research; guided by their advisers, students present their researches in national and international conferences.
Graduates of the UST-Legazpi SHS gain 21st century competencies necessary for the 4 exits envisioned for the K-12 program: higher education, employment, entrepreneurship, and middle-level skills development.
OUR VISION
We, the University of Santo Tomas – Legazpi Senior High School, envision ourselves as a premier Dominican Senior High School in deregulated university that provides excellent instruction in all its track and strands that meet the demands of the K-12 program.
OUR MISSION
We, a leading Dominican Senior High School commit ourselves to produce K to 12 graduates who are holistically prepared for higher education and/or employment.
Science, Technology, Engineering, and Mathematics (STEM)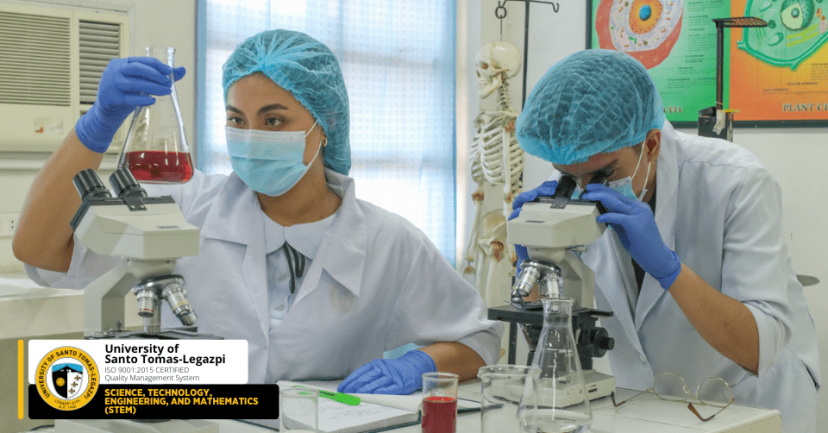 UST-Legazpi's Science, Technology, Engineering, and Mathematics (STEM) strand develops the students' ability to evaluate problems and critically formulate solutions through applying and integrating concepts in the fields of science, technology, engineering, and mathematics. It prepares them to pursue college degrees leading to careers as scientists, technological experts, engineers, mathematicians, programmers, and the like.
ACCOUNTANCY, BUSINESS, AND MANAGEMENT (ABM)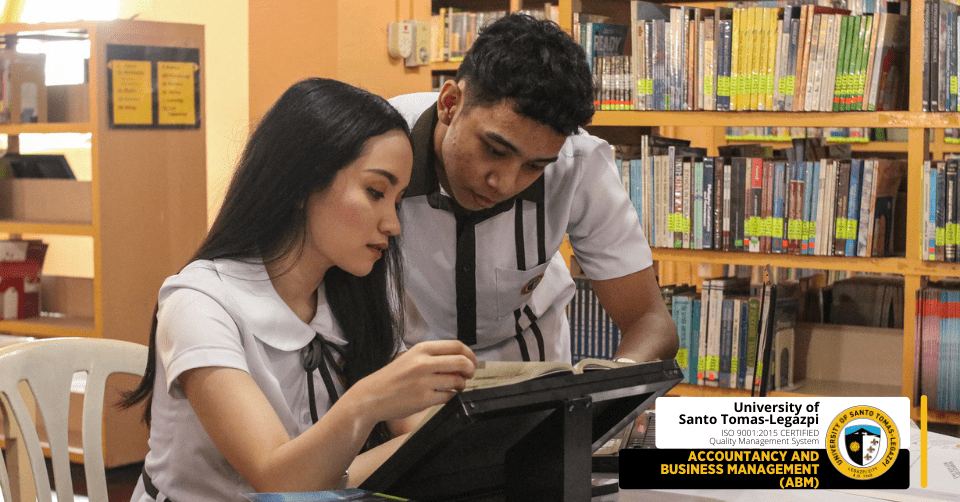 This strand provides pre-university training for learners who are inclined to pursue careers in accountancy, management, finance, banking, and entrepreneurship. Future workplaces include hotel and restaurant industries, tourism, banks, accounting firms, and corporate establishments.
HUMANITIES AND SOCIAL SCIENCES (HUMSS)
This strand focuses on honing the learner's communication skills. It is designed for students who are ready to take on the world and engage with people. Graduates may pursue further studies in social science-related programs such as law, journalism, social work, communication arts, liberal arts, public administration, theology, and education.
GENERAL ACADEMIC STRAND (GAS)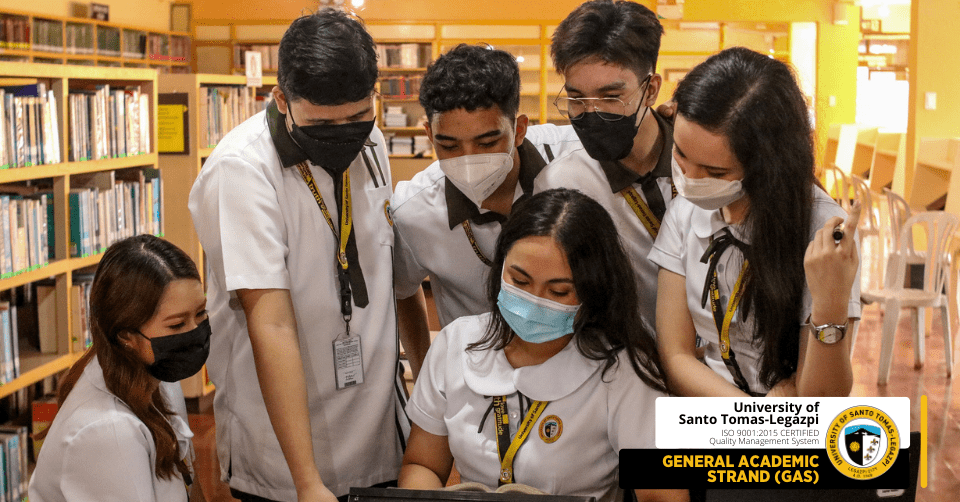 While other strands are career-specific, GAS is for students who are still undecided on which track to pursue. Students may choose electives from the different academic strands, such as Humanities, Social Sciences, Applied Economics, Organization and Management, and Disaster Preparedness.
• Arts and Design
Arts Production; Performing Arts
• Sports
• Technical-Vocational Livelihood
Cookery; Food and Beverage Services; Bread and Pastry Production; Plumbing; Technical Drafting and Design
To equip learners with the competencies needed in the workplace, all Grade 12 students undergo off-campus practicum in relevant institutions. Students are deployed in partner agencies such as hospitals, government offices, NGOs, and business establishments to apply the knowledge they gain from their contextualized and specialized subjects.
SENIOR HIGH SCHOOL VOUCHER PROGRAM
• A financial assistance given by the Department of Education (DepEd), which is managed by the Private Education Assistance Committee (PEAC) For each school year, a student enrolled in UST-Legazpi who applied and qualified in the PEAC voucher program will have a subsidy* of:
• ₱17,500 for completers from Public JHS
• ₱14,000 for completers from Private JHS
*Granted per school year
• Learning Management System (LMS)
• Fully air-conditioned classrooms
• Modern Robotics/Coding Education Laboratory
• Well-equipped Science Laboratories
• Accessible Computer Laboratories
• Turnstile Access Control System
• Conference/Seminar Halls
• Comprehensive Libraries
• Spacious Sports areas
• Complete Sports equipment
WHY CHOOSE UST-LEGAZPI?
The only Premier Dominican University in Bicol
Holistic Thomasian Education
Commitment to Academic Excellence, Moral Formation, and Emotional Maturity
Enriched industry experience
State-of-the-art facilities
Highly-esteemed faculty members
With PAASCU and PACUCOA Accredited and Re-accredited Programs
ISO 9001:2015 Certified Quality Management System
FOR INQUIRIES:
TRUNKLINES: (052)
736 – 0335
736 – 0358
736 – 0368
LOCAL NUMBERS:
221 – Principal's Office
278 – Admissions
201 – Registrar
214 – Testing
Email: seniorhigh@ust-legazpi.edu.ph
Website: ust-legazpi.edu.ph
Facebok, Instagram, Twitter: @ustlegazpi
Vita Veritatis et Amoris ex Gratitudine
A Life of Truth and Love out of Gratitude